Dealertainers are done at the Quad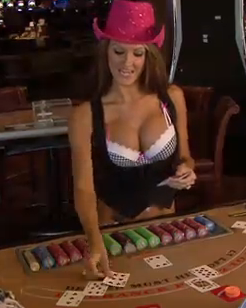 Sadly, the Dealertainers are no longer at the Quad. The Dealertainers started at the Imperial Palace in 2003 and were a huge hit for those 11 years. 
The Dealertainers were more fitting at The Imperial Palace. Although I did not see the closing coming, once they were relocated to the fully remodeled Quad the show seemed very different. It could very well be that it was just the setting. The location was right at the side door and almost seemed awkward as You walk in, like You walked into something You were not suppose to. 
What is the future for the Dealertainers?
All of the Dealertainers were offered Jobs as dealers, some part time and some full time. But there is also some talk of the whole group going elsewhere and getting the act going again. It was unclear if that location would have to be a Caesar's Property or if the company is giving up the rights to the act. If it is going to be a Caesar's property, there are some great choices to where it could be. 
At The Flamingo, a possible spot could be the Love Pit near the front door of the casino. At Harrah's the round black jack area would be perfect. At Bally's the Lounge on the Casino floor would be perfect or just outside of it would also work. There is no place for this act at Paris or Caesar's and risky at Planet Hollywood since they just do not need it. Rio has space but not the right fit.