Holly Madison leaving PeepShow

Update


Coco Austin is the new replacement for Holly Madison. Coco will star in the show starting December 3, 2012. The contract is just until March, when both parties will decide how to proceed from there. The producers of Peep Show are thrilled with the news and think that CoCo will be a great replacement. Coco is the co-star of Ice loves Coco. That show will go on as usual. Most will agree there is not really Anyone that can replace Holly Madison, Coco will do a good job and will be Her own Woman and not try to imitate Holly.


Coco Austin

---
Holly Madison is leaving PeepShow a few months earlier than Her contract stated. The Super Star, Miss Las Vegas is pregnant and will leave the show somewhere around mid October. She is in Her fourth month of pregnancy and only a few close to Her knew about it.
Electric Daisy Carnival founder Pasquale Rotella is said to be the Father of Her Child. The couple began dating in the spring but are not married.
Holly is planning to stay in the Vegas area after having Her Child. Over the past 4 years, Holly has become the face of Vegas. Any grand opening of any business, She was there to cut the ribbon or do a meet and greet. Holly will likely take a TV personality role with a local Las Vegas Station, a position that will allow Her time to raise Her Child.
Her last show will be mid to late October.
Angel Porrino was a sub for Holly often over the last 4 years

Angel Porrino will not be asked to take the star role in PeepShow, even though She is most familiar with the role. Angel frequently subbed for Holly when Holly was off.
Carmen Electra and Jenny McCarthy have been mentioned as a replacement. The idea of rotating the Star role has also been discussed.

Holly Madison will be hard to replace, She has a one of kind look

It will be strange to walk up to Planet Hollywood and not see a 50 foot image of Holly Madison on the front of the Building.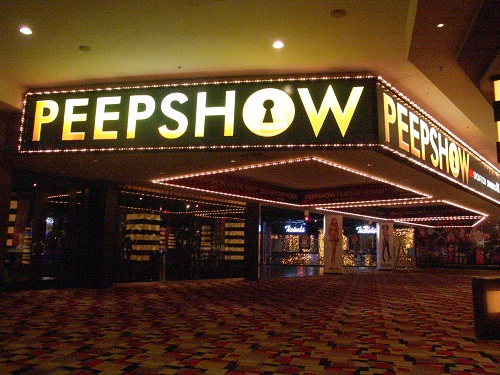 The second floor PeepShow Theatre was tearful when hearing of Holly's announcement