Silver Sevens Hotel Casino
Get Room Rates for Silver Sevens or name Your own price


Silver Sevens is the former Terribles. Nothing has changed, absolutely nothing except the name. Ever since Terribles Hotel and Casino built a new Hotel Tower this has been a very popular spot for People shopping in the value priced hotel market. The new tower is non smoking and that rule is actually enforced. The old section still has smoking rooms so if You choose to smoke, You still have a great cheap room with a giant flat screen tv that You can smoke in.

Silver Sevens Casino Las Vegas
Directions from strip: Go east on Flamingo two blocks to Paradise and find it on the corner (same street as Hard Rock).
Gaming area: 35,000 sq feet
Sports book: Very nice sports book, modern with all lcd tvs and digital betting boards. The sports book is really the highlight of this casino.
What you will find in the casino:
All the popular Slots, Video Poker, Keno machines, Penny slots, Black Jack, Roulette, Craps, Progressive Slots.
Unique to this casino: This casino has a 195 seat bingo hall, first game starts at 11am, last game starts at 9pm. The only Hotel I know of that will give You a free Shuttle ride to the Airport. Smoke Ventilation: As the name says "terrible". If not for the smoke problem this would be one of the best in its category.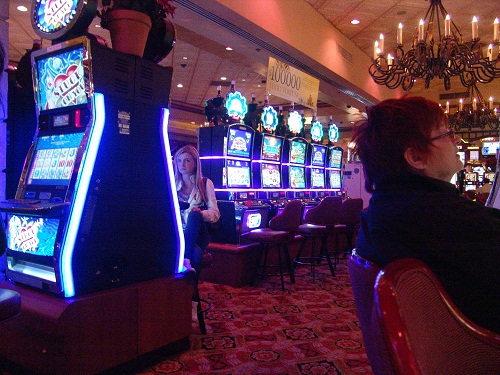 Cocktail Service: A little better than "terrible". Improvement is needed here but You can always sit at the bar and get better service. Or You can use Your Players card and buy a beer at the store just off the Casino floor.
Restrooms:Smoky but clean
Overall Atmosphere: Mix of locals and tourist. It can be hit or miss, each visit I have a different opinion. The Rooms are a real bargain, maybe the best in Vegas. All rooms have large flat screen tv's and all rooms come with free internet.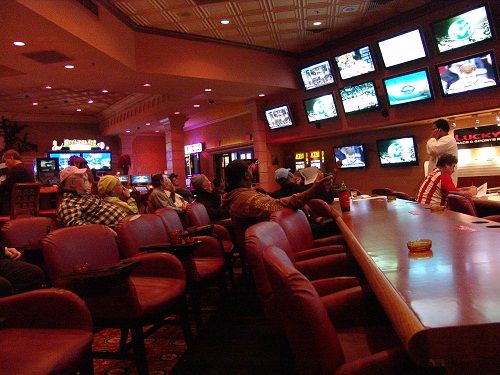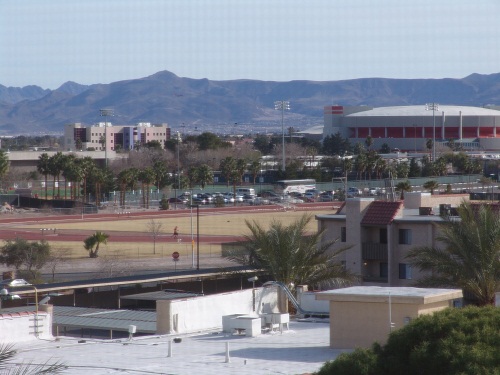 UNLV track and campus can be seen from the tower rooms at Terribles