Sahara Hotel and Casino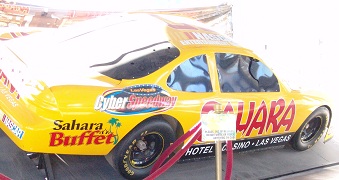 Sahara Casino Las Vegas closed for good May 16, 2011. Do Yourself a favor and visit this property at least once before then. Built in 1952 this very dated Hotel/Casino once was the hideout for the Paris Hilton's of the 50's. This Hotel has not updated much since opening but You can still get a cheap clean room. Don't confuse Old with Dirty. Your first impression will not be good but once You sit on the bed and look around You realize You are looking at a very well keep staple of the North end of the Las Vegas Strip. Today's announced closing came as no surprise but it is still very sad.
Gaming area: 85,000 sq feet
Sports book: Small in an obscure location but good tvs and friendly service.
This casino offers the following:
All the popular Slots, Video Poker, Keno machines, Penny slots, Black Jack (single deck tables), 3 card Poker, Let it Ride, Poker Room(14 tables), Pai Gow poker, Rapid Roulette, Roulette, Craps, Progressive Slots.
And some newer games: Black Jack Switch, triple up 21
High Limit Room: no Unique to this casino: you can get a drink fast, you don't get hassled to play more money for your drink.
Smoke Ventilation: Good, better than expected
Cocktail Service: good
Overall Atmosphere: Its old school Las Vegas Strip, you got to go! You can get loud here, no one will look at you strange.
If you stay at this hotel it is highly recommended you buy a Monorail ticket since this hotel is one of the direct stops. You can get up and down the strip extremely fast and much cheaper than taking a taxi. The bus is a good option also, but the monorail is much faster. Check out rates and hours of operation of the Las Vegas Monorail.