Silverton Hotel and Casino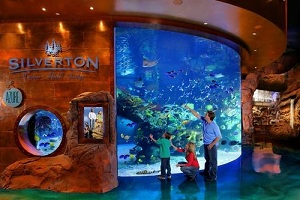 Silverton Casino Las Vegas
3333 Blue Diamond Road
Las Vegas NV 89139
702 263 7777
Gaming area: 60,000 sq feet
Sports book: Small modern book but the lounge adjacent is a great place to watch your games. There is a two lane bowling alley in the same area so if someone is bowling you will not hear the tv's very well.
What you will find in the casino:
All the popular Slots, Video Poker, Live keno(8 seats) , Keno machines, Penny slots, Mini Baccarat, Black Jack(some double deck tables) , 3 card Poker, Poker Room(5 Tables, 7 Lcd tv's), Pai Gow poker, Roulette, Craps, Progressive Slots.
And some newer games: Super Fun 21
High Limit Room: BlackJack and Slots in a very nice salon
Unique to this casino: Bowling alley in an airstream trailer in the middle of the casino
Smoke Ventilation: Good
Cocktail Service: Okay but it might have been the time of day, not many servers.
Restrooms: Very clean
Overall Atmosphere: This is a very nice casino. Modern but casual. Attached to this Casino is Bass Pro Shops 165,000 sq ft store. At the entrance to the casino you will see a huge aquarium that is typically seen in most Bass Pro Shops.
leave Silverton Casino Las Vegas return to "other" Casinos