Las Vegas Buskers becoming a nuisance
Street performing or Busking has been around since sidewalks and streets. They have been increasing in numbers in Las Vegas over the last few years. It is getting to the point that some sort of regulation is going to be needed to keep them in order. 
In case You didn't know, these buskers do not need a license in Las Vegas to perform or offer a service for Tips. The City of Paradise or Las Vegas has no official record of Who these People are, even though some make their living with a picture, a picture of them with their arm around You. 
Would You like to get Your picture taken with Jerad Miller, the Las Vegas Cop Killer? If You were in Las Vegas up until early June 2014, You would have had the opportunity. Jerad and His wife, Amanda would dress up as the joker from Batman and pose with You for Tips. They did this often, so plenty of People are now searching their recent vacation pictures to see if they have one of the Cop Killer.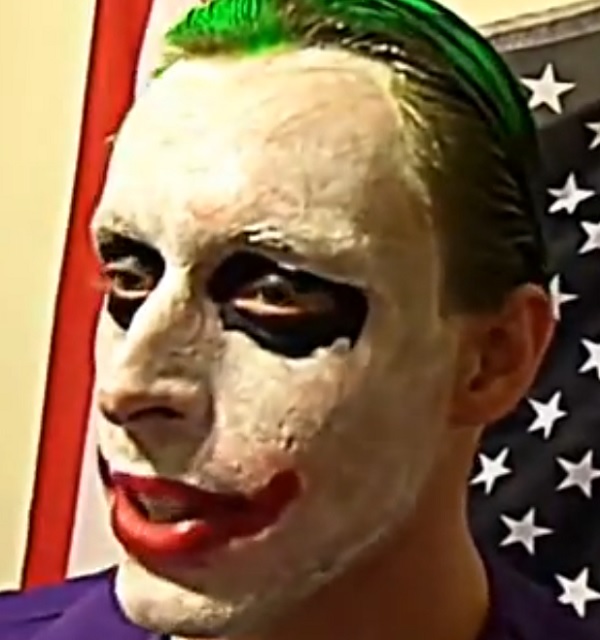 Jared Miller, the Las Vegas Cop Killer was a frequent street performer on Fremont Street in downtown Vegas
There have been and most likely still are Sex offenders that are working as buskers on the Strip and Downtown but You would never know it because They are in costume. They have trouble getting regular jobs so a job in which they can pretend to be Someone else is perfect for them. 
But, besides the creepy factor or risk factor of these buskers being unknown to the City is that they are impeding the traffic flow on the sidewalks and can be very rude. The ACLU says they have the right to freedom of speech but they can be offensive to say the least and now and then could start a fight with the wrong Person. They will set up shop without regard to the walking path of thousands of visitors, forcing some out into the very busy and dangerous Las Vegas Blvd. Las Vegas is one of the top Cities in America for pedestrian deaths and these buskers might have some hand in that.
Quick Search

With more shows to choose from than any other City in the World, You might feel overwhelmed deciding on one. But if You narrow Your preference to a category, You can make Your decision much easier. If Your interest is in a Cirque du soleil show, why browse through the Comedy and Adult shows? If You want to see Britney or Mariah or JLo just browse the Concerts and headliners. 

Don't like huge theaters and big crowds? Choose an afternoon Show for a much lower price.  

A Dinner and Show combo is a great value and saves time to do other things that day.