Las Vegas Clubbing

Las Vegas Clubbing is similar only to clubbing in New York, Miami and Los Angeles. Be sure to get the VIP packages to at least have a shot to rub elbows with Celebrities. The list of Clubs below are the only ones worth going to if you want to have a memorable night. You can't go home and talk about a club no one has ever heard of. If you know the club you want to visit then just click on the club name in the list below..
These are the most popular Clubs in Vegas that won't cost You a fortune:
Body English located at Hard Rock
Chateau located at Paris
Foundation Room located at Mandalay Bay
Ghostbar located at Palms
Hyde located at Bellagio
LAX located at Luxor
voodoo located at the 51st floor of the Rio
-




Experience VIP nightlife like, "The Las Vegas Elite" with V Card: The Vegas Nightlife Pass. Receive VIP access to 50 exclusive Vegas nightlife venues that include nightclubs, ultra–lounges, bars, day club pools and gentlemen's clubs. V Card also provides exclusive drink, dining and entertainment offers. Own the night with V Card: The Vegas Nightlife Pass.

Ages 21+ only.
| | |
| --- | --- |
| | The Sayers Club at SLS Las Vegas Hotel & Casino is an intimate live music venue that offers impromptu performances from emerging and well-known artists. |
The full list of Las Vegas Night Clubs:
Full list of Las Vegas Night Clubs
Where can I find a list of Las Vegas Bars? Right here: 
How about Las Vegas Strip Clubs? Well, they aren't just for Men anymore, check them out:
Full list of Las Vegas Strip Clubs
And of course Las Vegas has Gay Clubs, check out this list and visit often because it will grow and grow:
Full list of Las Vegas Gay Clubs
---
Goretorium & VIP Club Crawl - Save more than $10!Goretorium VIP Club Crawl by Nite Tours Nite Tours - Goretorium VIP Club Crawl5067 Arville StreetLas Vegas, Nevada 89118 Party at the clubs on the dark edge. This is the newest thing in clubbing in Las Vegas. You might have a better shot at seeing a celebrity since this is what is trending.
"What Women Want"What Women Want Pass Stripper 101 Studio - Planet Hollywood Miracle Mile 3663 Las Vegas Blvd. South Suite #360Las Vegas, Nevada 89109
Other than the ones listed here You can get into them for free. Every taxi driver has free night club passes and also the annoying guys on the street will have them. The guy that is yelling "free night club passes" get a few cents for every pass He passes out so He is not going to charge You for the "free pass". The Clubs that send these Guys out will charge an admission to Everyone that wasn't smart enough to accept those free passes. Be sure to ask Your taxi driver for passes, it will not cost You anything and You can always throw them away if You do not use them. The real cost of these clubs is once You get in, anyway.
leave Las Vegas Clubbing return to Home Page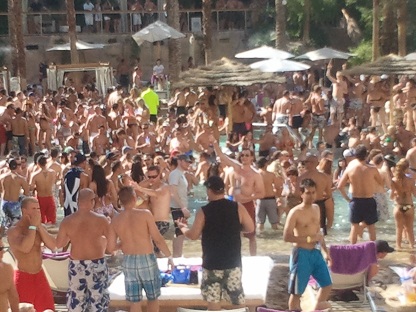 Quick Search

With more shows to choose from than any other City in the World, You might feel overwhelmed deciding on one. But if You narrow Your preference to a category, You can make Your decision much easier. If Your interest is in a Cirque du soleil show, why browse through the Comedy and Adult shows? If You want to see Britney or Mariah or JLo just browse the Concerts and headliners. 

Don't like huge theaters and big crowds? Choose an afternoon Show for a much lower price.  

A Dinner and Show combo is a great value and saves time to do other things that day.