Free Stuff in Las Vegas
Free Stuff in Las Vegas is a lot better than high priced stuff in other cities. Nothing is free, right? Well, it is in Las Vegas. Free stuff is all over Vegas to get You to spend money in that location. As long as You keep that in mind then it really is free. But if You see the free rain show at Miracle Mile only to buy a 400 dollar purse on Your way out, then that rain show wasn't so free. If You are like Me You can get the free stuff without spending money.

Bellagio:Botanical gardens in the atrium, see it 24 hours. Dancing Fountains: Monday - Friday 3pm-8pm every half hour, 8 to midnight every 15 minutesSaturday, Sunday and Holidays 12pm-8pm every half hour, 8pm to midnight every 15 minutes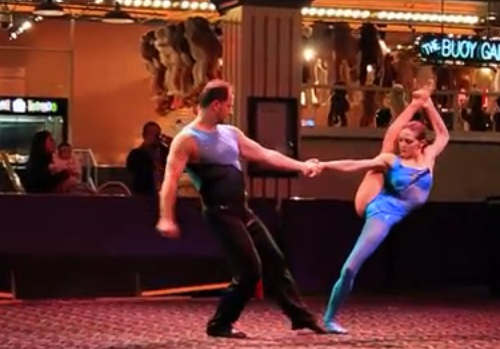 Circus Circus: Free performance under the Big Top starting at 11am daily.These are highly skilled top quality athletes performing stunts and tricks that will impress the young and old.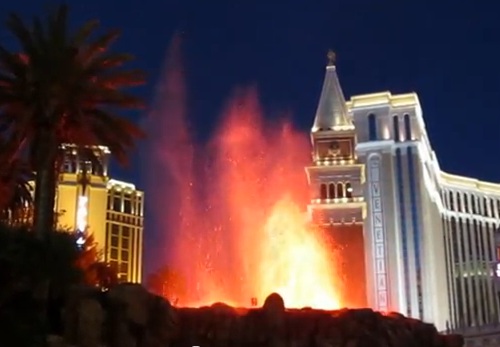 Mirage:Volcano show is now just a few times per night, no set schedule, get lucky and see it. Also at the Mirage, The Aquarium at front desk: Very impressive display of coral and fish. See it 24 hours. Lush indoor rainforest in the atrium, see it 24 hours.
Treasure Island: Nightly Pirate show. Sirens of T.I. is now closed! )
Update: This show is closed. The corner is now a CVS. 
Fremont Street Experience: Downtown Fremont Steet. Dusk until at least midnight usually later. Do not leave Las Vegas without seeing this at least one night. This is old Vegas when the sun goes down. Nightly free entertainment. You can take the bus from the strip for 3 dollars each way, its well worth it.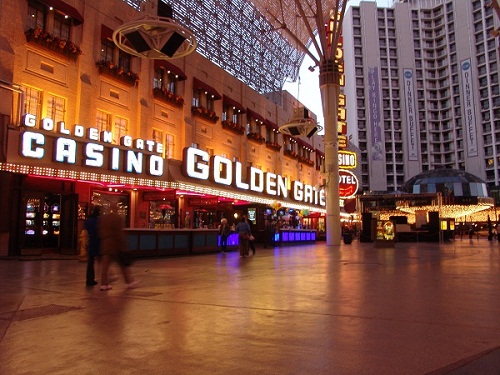 Golden Gate: (downtown)This is the oldest Casino in all of Nevada. Built in 1906, see its transformation from the pictures in the hotel lobby. Get a 99 cent shrimp cocktail while you are there. You need a player's card to get it but the players card is a good free souvenir that says 1906 club on it.
Luxor:Worlds largest AtriumSee it 24 hours.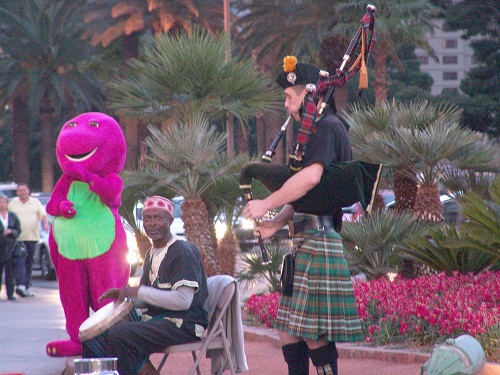 Free Entertainment on the Las Vegas Strip, You never know what You will find but for sure there will be something to choose from. Where else will You see Elmo, a bongo and bag pipe player in the same place?

People Watching, Las Vegas Strip, can You spot a beautiful lady with lots of money? Who is She? Is there a rich husband gambling big inside the Casino or is She the one with the money?

A curved Escalator at Caesar's Forum Shops
Quick Search

With more shows to choose from than any other City in the World, You might feel overwhelmed deciding on one. But if You narrow Your preference to a category, You can make Your decision much easier. If Your interest is in a Cirque du soleil show, why browse through the Comedy and Adult shows? If You want to see Britney or Mariah or JLo just browse the Concerts and headliners. 

Don't like huge theaters and big crowds? Choose an afternoon Show for a much lower price.  

A Dinner and Show combo is a great value and saves time to do other things that day.