Las Vegas Hotel
LVH
formerly Las Vegas Hilton, then LVH and now it is Westgate
You will earn 4.7 % rewards on this hotel, on top of already being the guaranteed best price. Rewards can be used for any future bookings on any hotel.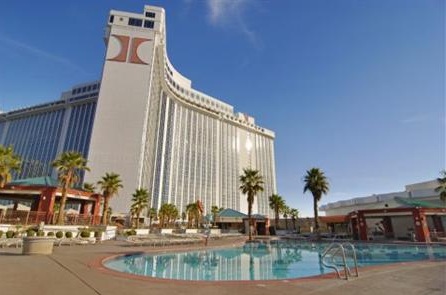 LVH Swimming Pool

About the LVH Casino:
Gaming area: 110,000 sq feet
Sports book: Said to be the biggest in the world but now they have moved lots of slots in that area so I don't think they can count that as part of their sports room. It's a great sports book. It has stayed up with high tech tv's and betting boards. This is a great college and NFL football place to be!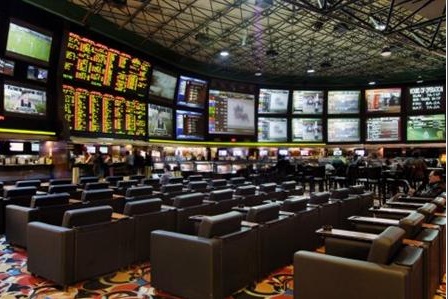 LVH Sports Book

This Casino offers the following:
All the popular Slots, Video Poker, Keno machines, Penny slots, Black Jack, 3 card Poker, Let it Ride, Pai Gow poker, Roulette, Craps, Progressive Slots.And some newer games: Single deck Black Jack, Ultimate Texas Hold'em.
High Limit Room: no
Unique to This Casino: A full room of wheel of fortune slots
Smoke Ventilation: Good
Cocktail Service: Good
Restrooms: Large and clean.
Overall Atmosphere: Its almost like they are just giving up. I would think being out of the way like they are they would offer more games but they don't have much more than a small casino. I have them listed as a Strip Casino and as a near strip casino. If you like the most common games you will like this Casino. The Sports Book is one of the best.
Now that the Las Vegas Hilton is the Las Vegas Hotel, the price of the rooms has been reduced. In order to make this Hotel a good choice You will need to use the Monorail. In just a few minutes You can be anywhere on the strip You want. Using a taxi can be expensive and not as comfortable. The Las Vegas Monorail is very safe and very comfortable. Since the LVH is a direct stop, all You have to do is walk out the front of the Hotel and You are at the Monorail terminal. Check out rates and hours of the Las Vegas Monorail.
Quick Search

With more shows to choose from than any other City in the World, You might feel overwhelmed deciding on one. But if You narrow Your preference to a category, You can make Your decision much easier. If Your interest is in a Cirque du soleil show, why browse through the Comedy and Adult shows? If You want to see Britney or Mariah or JLo just browse the Concerts and headliners. 

Don't like huge theaters and big crowds? Choose an afternoon Show for a much lower price.  

A Dinner and Show combo is a great value and saves time to do other things that day.