Tony N Tina's Wedding
Ballys Las Vegas Windows

Tony N Tina's Wedding, Las Vegas is just like a real wedding, lots of confusion and a full Italian Buffet dinner at every show. Complete with a Champagne toast and even wedding cake. The only difference in this wedding and a real one is You can laugh out loud at Tony and Tina, unlike a real one that You have to save the laughter for the ride home. If You think this show used to be at Planet Hollywood, You are right. Ballys and Planet Hollywood are part of the Caesar Entertainment group so this is not strange for them to shuffle shows between venues.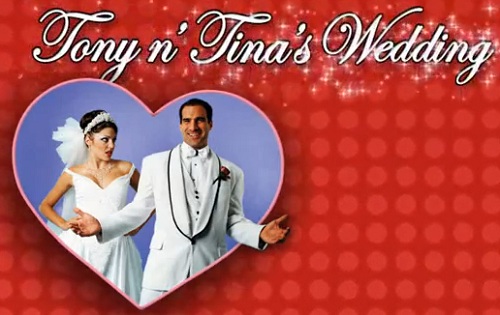 leave Tony N tina's Wedding Las Vegas, return to show tickets

Quick Search

With more shows to choose from than any other City in the World, You might feel overwhelmed deciding on one. But if You narrow Your preference to a category, You can make Your decision much easier. If Your interest is in a Cirque du soleil show, why browse through the Comedy and Adult shows? If You want to see Britney or Mariah or JLo just browse the Concerts and headliners. 

Don't like huge theaters and big crowds? Choose an afternoon Show for a much lower price.  

A Dinner and Show combo is a great value and saves time to do other things that day.