Harrah's Hotel and Casino
Las Vegas

Harrah's seen from the back at the Monorail walkway.

Unique to Harrah's is the easy access from the room to the casino and to the Las Vegas Strip. Most Resorts on Las Vegas Blvd have set the hotel rooms way back on Their property which create a long walk to the rooms. At Harrah's You can get to Your room and back to the tables in minutes. The room rates at Harrah's are among the lowest on the Strip. 

Harrah's Casino
Harrahs Casino Las Vegas Gaming area: 87,000 sq feet
Harrahs Casino Las Vegas Sports book: Newly remodeled and they did a fantastic job. All updated betting boards, digital big screens and a small section of non smoking chairs. 
Harrah's Casino offers the following Games:
All the popular Slots, Video Poker, Live keno (36 seats) , Keno machines, Penny slots, Baccarat, Black Jack, 3 card Poker, Big six, Let it Ride, Poker Room,(12 tables many lcd tvs) Pai Gow poker, Roulette, Machine Roulette, Casino War, Roulette, Craps, Machine Craps, Progressive Slots. And some newer games: DJ Wild Stud Poker, Crazy 4 Poker, Ultimate Texas Hold'em, Mississippi Stud, Asia Poker, High Card Flush

High Limit Room: Really nice slot room

Unique to Harrah's Casino: The Poker room and sports book are at the top of the class. This Poker room is enclosed by glass so you are free of smoke but still part of the casino.
Smoke Ventilation: Some bad spots where the the ceiling is low but the areas or OKAY.
Cocktail Service: good, This Casino gets very very busy but They typically keep up by having more staff at the busier times.
Restrooms: Good but there is a GREAT one in the Hotel Lobby.
Harrah's Casino Overall Atmosphere: exciting, loud, you will not need an energy drink to get you going here.
Carnival Court:Right outside of Harrah's you will find Carnival Court where they have live entertainment starting at 4pm daily. The bar opens at 12 noon and closes at 2am. The Bartenders are flair bartenders and are a show in themselves. Blackjack can be played in Carnival Court late afternoon into the night.

| | |
| --- | --- |
| Once You visit Harrah's, You will wonder why You hadn't before. This is a high energy, loud Casino. The rooms are close to the Casino, unlike most larger Hotel Casinos. While this Casino gets very crowded, You still have room since Harrah's doesn't crowd the machines and table games next to each other. | |
Enjoy playing all games without bumping the next chair.

You can take a hotel shuttle bus to Sam's town and other casinos from here. If you stay at this hotel it is highly recommended you buy a Monorail ticket since this hotel is a direct stops on The Las Vegas Monorail Line. You can get up and down the strip extremely fast and much cheaper than taking a taxi. The bus is a good option also, but the monorail is much faster. Check out rates and hours of operation of the Las Vegas Monorail.
Harrah's Food Court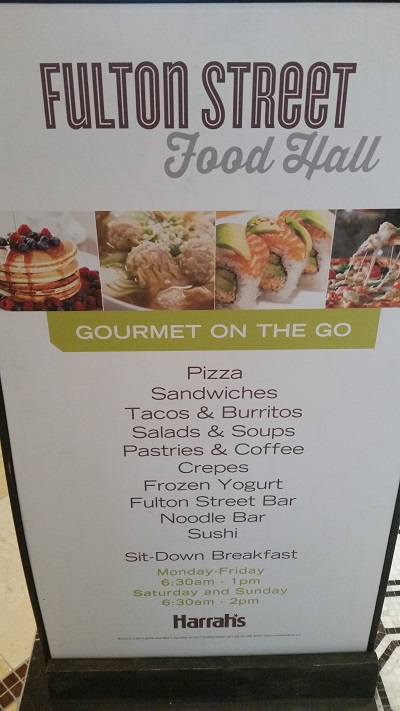 You will not find brand names at this Food Court but make no mistake this food is as good or better than the best brand name chain stores. Sandwiches, Hamburgers, Pizza, Sushi, Yogurt, Noodles, Pastries and Coffee, Crepes, Tacos and Burritos and a full sit down Breakfast
Quick Search

With more shows to choose from than any other City in the World, You might feel overwhelmed deciding on one. But if You narrow Your preference to a category, You can make Your decision much easier. If Your interest is in a Cirque du soleil show, why browse through the Comedy and Adult shows? If You want to see Britney or Mariah or JLo just browse the Concerts and headliners. 

Don't like huge theaters and big crowds? Choose an afternoon Show for a much lower price.  

A Dinner and Show combo is a great value and saves time to do other things that day.