Luxor Hotel and Casino
Las Vegas
| | |
| --- | --- |
| Located at 3900 Las Vegas Blvd South, Las Vegas, NV 89109, The Luxor Hotel and Casino has the world's largest Atrium. Luxor is located south of The Excalibur and North of Mandalay Bay. The pyramid shape with its glass panels is one of the most unique Hotel Casinos on the World. | |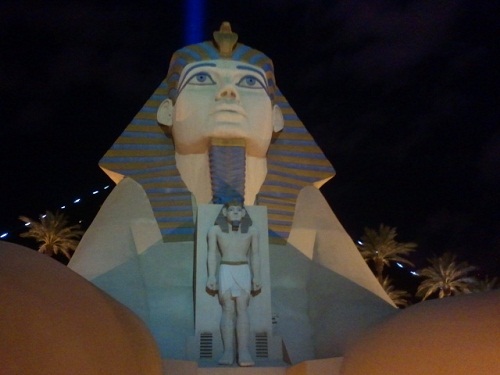 Luxor Sphinx a the front of the Casino

The Luxor is a truly amazing Hotel at a very affordable price. The Hotel has Mandalay Bay on the south side and Excalibur on the North side, both can be reached by moving sidewalk or tram. It is fitting that Luxor is between these two because the room rates are also in the middle. The moderate price will surprise You considering the overall atmosphere of this very rare themed Hotel.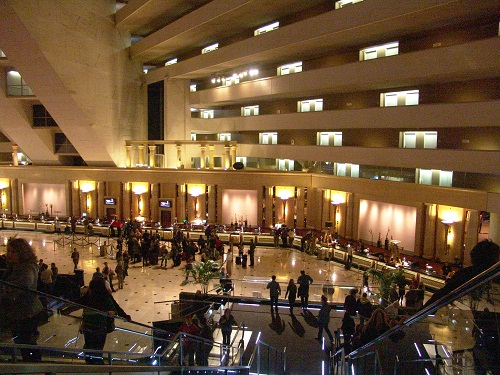 Lobby and Reception of the Luxor Hotel and Caisno

Luxor Las Vegas Casino
Gaming area: 120,000 sq feet
Luxor Casino Sports book: Big, not updated completely but pretty modern.
Catch a Las Vegas Show.
Luxor Casino offers the following:
All the popular Slots, Video Poker, Keno machines, Penny slots, Baccarat, Black Jack, 3 card Poker, Big six, Let it Ride, Poker Room (8 tables), Pai Gow poker, Rapid Roulette, Roulette, Craps, Progressive Slots.
And some newer games: Mississippi Stud
High Limit Room: yes
Unique to Luxor Casino: Kid friendly. Great Location. Located just south of the Excalibur Hotel and Casino. You can get to the most busy part of the Las Vegas Strip by taking the moving sidewalk or tram to Excalibur then take the crosswalk to New York New York then to MGM Grand. In the other direction you can visit one of the Mega Resorts, Mandalay Bay. Plenty of shopping and plenty of good cheap food is just minutes away. The Luxor is the worlds tallest Atrium in the World so be sure to snap some pictures to prove you were there.
Smoke Ventilation: good except near the buffet where the ceiling is low or where so many people are getting that last one smoked before eating.
Cocktail Service: Good
Restrooms: Modern and clean.
Luxor Casino Overall Atmosphere: Its worth visiting just to see the pyramid. You can eat cheap at the Luxor Food Court.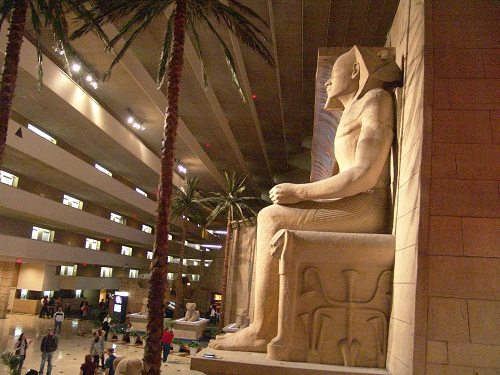 Atrium Lobby at the Luxor Hotel and Cainso

leave Luxor Las Vegas return to Strip Casinos
Quick Search

With more shows to choose from than any other City in the World, You might feel overwhelmed deciding on one. But if You narrow Your preference to a category, You can make Your decision much easier. If Your interest is in a Cirque du soleil show, why browse through the Comedy and Adult shows? If You want to see Britney or Mariah or JLo just browse the Concerts and headliners. 

Don't like huge theaters and big crowds? Choose an afternoon Show for a much lower price.  

A Dinner and Show combo is a great value and saves time to do other things that day.