Riviera Las Vegas Hotel Room

Riviera Las Vegas Hotel Rooms are some of the nicest on the Strip but many people don't know it. Riviera Hotel and Casino is located at the North end of the Strip across from Circus Circus and Slots-A-Fun and South of Sahara and East of Las Vegas Hilton. The Location used to be the hottest in Vegas but then the mega Resorts started being built on the Mid Strip area. Although Riviera is no longer in the hot spot, its still a good location. The Rooms have been completely remodeled including large flat screen tv's. The Non-Smoking rooms are truly Non-Smoking. That is a very rare find in Las Vegas, How do They do it? All Non Smoking rooms have a sensitive smoke alarm in them and if that alarm goes off the guest that set it off is charged 250.00 on the Card They used to check in. Most other non-smoking rooms are rented to smokers who also don't like a nasty smoke smelling room but They do smoke in it and try to air it out so They don't caught, like opening a window or smoking in the bathroom with the fan running. Neither will work and over time that room stinks of smoke.
Watch Video of Actual Riviera Hotel Room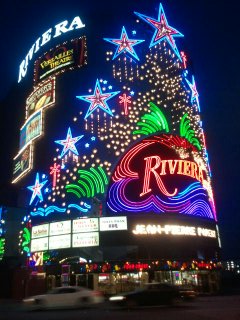 leave Riviera Las Vegas Hotel Room, return to Riviera

Quick Search

With more shows to choose from than any other City in the World, You might feel overwhelmed deciding on one. But if You narrow Your preference to a category, You can make Your decision much easier. If Your interest is in a Cirque du soleil show, why browse through the Comedy and Adult shows? If You want to see Britney or Mariah or JLo just browse the Concerts and headliners. 

Don't like huge theaters and big crowds? Choose an afternoon Show for a much lower price.  

A Dinner and Show combo is a great value and saves time to do other things that day.