Street Performers (Buskers) Las Vegas

I think there is a split opinion of the Buskers (Street Performers) in Las Vegas. Some are very talented, some are nearly naked, some are self deprecating. The Buskers downtown are now registered with the City of Las Vegas and are assigned an area to perform on a rotating basis. The Buskers on the Las Vegas Strip which is NOT in the City of Las Vegas are not registered with Anyone and can perform whenever and wherever They desire. All the mentioned Buskers work for Tips, They are not allowed to ask for a certain amount of money but They can let You know they are working for Tips. Legally You do not have to give them anything but most People that get a picture with them DO Tip. Some are in Character Costumes even in 110 degree heat so if You want a picture You really should Tip.
The Park and the Linq Promenade have street performances but these are paid by MGM and Caesar's respectively. They also accept Tips but that is a bonus for them, not their only source of income.
Despite The skimpy outfits that most of the female buskers wear they are just for show, these Girls are NOT Escorts, if You want to know about Las Vegas Escorts, read here.......
Watch the Dad in these next two images, You can see that He really wants to take a look at these Hot nearly naked Babes.
As This Family walk by these hot Buskers the son knows not to look but the Father is waiting for His Chance to Look. Not yet dad, wait for it.......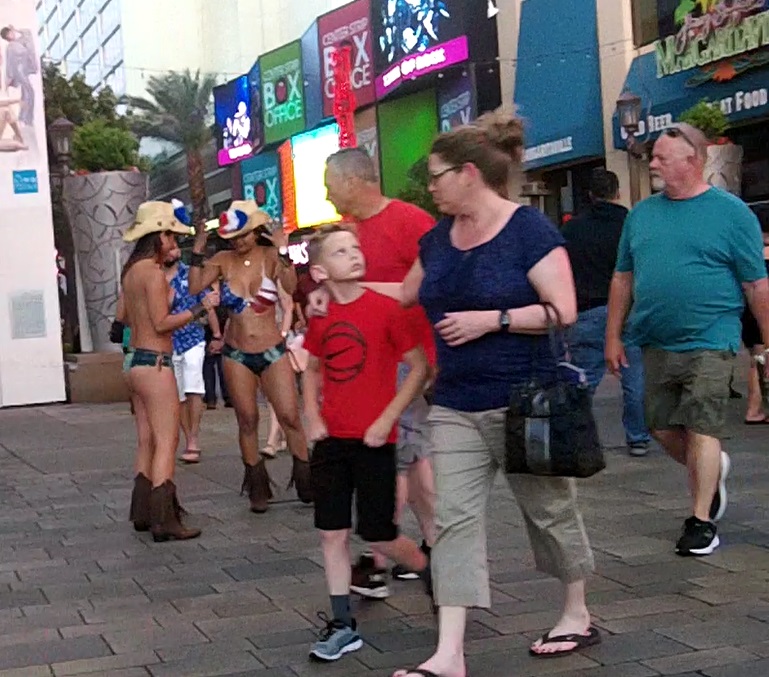 NOW Dad NOW!!! While Mom is telling Son not to look Dad takes this rare opportunity to take a look without getting scolded by Mom. Good Work Dad!!
Some of the Female Buskers let You touch them more than others, always ask if You are going to put Your hand on Their butt.
Las Vegas has all types of Buskers, there is sexy and then there is this:
Quick Search

With more shows to choose from than any other City in the World, You might feel overwhelmed deciding on one. But if You narrow Your preference to a category, You can make Your decision much easier. If Your interest is in a Cirque du soleil show, why browse through the Comedy and Adult shows? If You want to see Britney or Mariah or JLo just browse the Concerts and headliners. 

Don't like huge theaters and big crowds? Choose an afternoon Show for a much lower price.  

A Dinner and Show combo is a great value and saves time to do other things that day.