The "New" Las Vegas Roulette

Remember when Rapid Roulette first came out? Most People thought it would never work. However, it became successful after its first year In Vegas. A spin off of Rapid Roulette was Rapid Craps, it did not fare as well and for good reason. Now Roulette has taken yet another turn. The newest Roulette in Las Vegas doesn't even have a name. Its just the New Roulette. The game is just like Rapid Roulette except for one Huge difference, there is no dealer. Now, You do not have to give Your money to some idiot that carries it on a tray over to a computer terminal and types in a bunch of keys like You are asking for a plane ticket to Hong Kong, then after three plays You finally get the money credited to Your screen. Now, New Roulette is all self service, good for the Casino's, faster and more friendly for the player but not good for Las Vegas Jobs.

Now this game is years old and it is as hot as any game has ever been in Vegas. Almost every Casino has it now. The first year of operation, it was hard to get a seat and even though it is still very popular, You will find a spot.

The game is fast and easy. All the information You need is right in front of You. You can drag and drop different denominations of chips to Your number, group of numbers or other regular roulette bets. And You can watch the ball drop in and find its number or You can look up at the top of the machine to see all that and information on previous spins (below)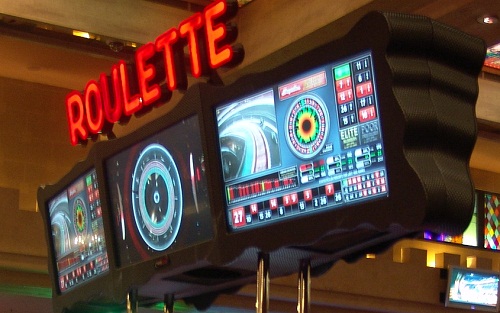 Top of New Roulette Las Vegas Machine

The Machines take Your money just like a slot machine, put in dollars, fives, tens, twentys or hundreds or even tickets from cashing out on other machines. As soon as You put Your money in, You will see it credited on Your terminal and You are ready to play, no more waiting on the idiot attendant.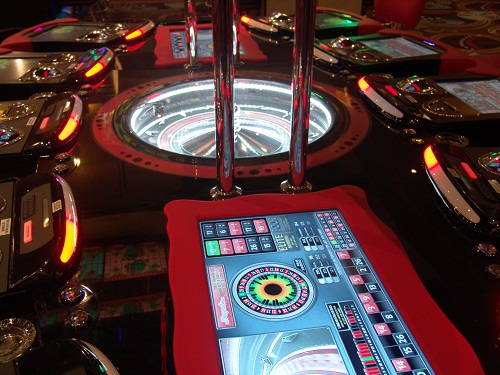 A table layout with all the live action can be seen from every seat.

The new Roulette Las Vegas is a relaxing game to play and is now at most casinos in Las Vegas. The advantages to this roulette game over old fashion roulette are obvious. Just like rapid roulette, You do not have a chance of mixing up Your chips with the stranger next to You. You don't have someone reaching over You to place their bet while Their cigarette is in Your face. 

The New Roulette Wheel is enclosed so No One can interfere with the spin.

Leave The new Las Vegas Roulette, return to Unique games

Quick Search

With more shows to choose from than any other City in the World, You might feel overwhelmed deciding on one. But if You narrow Your preference to a category, You can make Your decision much easier. If Your interest is in a Cirque du soleil show, why browse through the Comedy and Adult shows? If You want to see Britney or Mariah or JLo just browse the Concerts and headliners. 

Don't like huge theaters and big crowds? Choose an afternoon Show for a much lower price.  

A Dinner and Show combo is a great value and saves time to do other things that day.