Slots a Fun

Update: 
This Casino is all but closed. It has almost no gaming and is dead most of the time. They put in some bowling and pool tables in place of the gaming tables but NOBODY Cares. Do not consider going here unless You want to sleep on the dirty casino floor.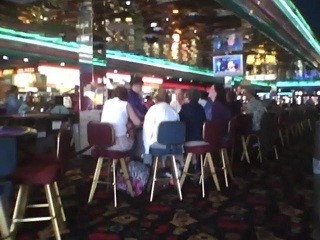 Gaming area: 18,000 sq feet
Sports book: no
This casino offers the following:
All the popular Slots, Video Poker, Keno machines, 5 cent slots, Black Jack, 3 card Poker, Let it Ride, Roulette, Craps, Progressive Slots. Single deck Black Jack
High Limit Room: no
unique to this casino: 2 dollar Heineken 24/7. Monday-Friday 2 and 3 dollar table games plus 50 cent roulette.
Smoke Ventilation: stay near the front, its very bad in the back
Cocktail Service: On two visits it was terrible but I gave a couple more tries and it was actually pretty darn good.
Restrooms: Small and dirty
Overall Atmosphere: Fun little casino, if you get lucky and get a good waitress. It is the best place on the strip to play craps for a few reasons: Lower minimums than almost anywhere on the Strip and the Table is way up front where the air flow is really good so even if the person next to you is smoking it will never bother You. It really feels like You are at a craps game on the sidewalk of the Las Vegas Strip.
Slots a Fun is only casino on the strip without a hotel but Circus Circus is in crawling distance. Slots a Fun is owned by Circus Circus so You can rack up points for Circus Circus comp Rooms when You play at Slots a Fun.
Leave Slots a Fun Casino return to Strip Casinos
Quick Search

With more shows to choose from than any other City in the World, You might feel overwhelmed deciding on one. But if You narrow Your preference to a category, You can make Your decision much easier. If Your interest is in a Cirque du soleil show, why browse through the Comedy and Adult shows? If You want to see Britney or Mariah or JLo just browse the Concerts and headliners. 

Don't like huge theaters and big crowds? Choose an afternoon Show for a much lower price.  

A Dinner and Show combo is a great value and saves time to do other things that day.